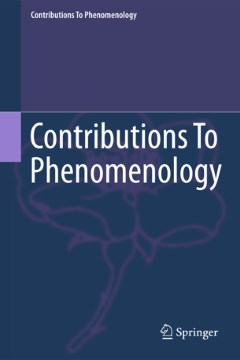 The analytic reception of Husserlian phenomenology in the united states
history, problems, and prospects
pp. 435-459
Abstract
This paper considers the historical and current reception of Husserl's phenomenological project within the tradition of analytic philosophy, especially in the United States. Despite the fact that both Husserlian phenomenology and the analytic tradition have centrally undertaken systematic analysis and clarification of structures of meaning or sense, the project of phenomenological analysis and reflection has never been centrally or comprehensively integrated into the most characteristic projects of the analytic tradition. This resistance owes in part to the strong elements of naturalism, conventionalism, reductionism, and realism characteristic of the projects of the analytic tradition. I argue that there remains little hope for a comprehensive rapprochement between Husserlian phenomenology and analytic philosophy that retains without significant distortion the most characteristic methods of both. Nevertheless, it is possible to envision a contemporary development of a phenomenologically informed "post-analytic" philosophy that would integrate phenomenological methods and ideas (such as the ideas of world, reflective awareness, consciousness, givenness, presence, and the "first person" perspective) to supplement the analytic project just where some of its constitutive limitations are, today, becoming most evident.
Publication details
Published in:
Ferri Michela Beatrice, Ierna Carlo (2019). The reception of Husserlian phenomenology in North America, Springer, Dordrecht.
Pages: 435-459
DOI: 10.1007/978-3-319-99185-6_26
Full citation:
Livingston Paul (2019). The analytic reception of Husserlian phenomenology in the united states: history, problems, and prospects, in M. B. Ferri & C. Ierna (eds.), The reception of Husserlian phenomenology in North America, Dordrecht, Springer, pp. 435-459.